Information
Information
A Century of Caring Beyond Belief
A Century of Caring Beyond Belief
Catholic Charities of the Diocese of Albany
1917 - 2017

A Centennial Prayer
Please join us in praying for Catholic Charities, that we may continue to serve the poor and vulnerable within our community.
Gracious and loving God, We thank you for guiding
Catholic Charities these one hundred years of caring beyond belief.
We ask you to bless our sisters and brothers in need and
transform us in the privilege of serving them.
We praise you for all the people who have served this
ministry with their hands, their hearts and their lives.
We implore you to continue to send partners for the
work ahead and your sufficiency for all our needs.
We marvel at your miracles in these years and entrust
to You all that is to come.
Amen
100 Years History
Catholic Charities of the Diocese of Albany is the social service arm of the Roman Catholic Diocese of Albany, providing services with dignity and compassion that respond to people in crisis, provide for basic needs, and support and protract the vulnerable.
2017 marks our 100th year of serving the Albany Diocese as an active witness on behalf of the Scriptural values of mercy and justice.
During its early beginnings through the 1950's, Catholic Charities primarily served Catholic families in the urban areas of Albany, Schenectady, and Troy. During the 1970s, Catholic Charities launched a large scale initiative to expand its social services beyond the Capital Region and to serve all 14 counties in the Diocese of Albany. Individual Catholic Charities agencies were established in rural counties of the diocese, as well as service-specific agencies to focus on housing, helping people with disabilities, assisting senior citizens, and helping young mothers and pregnant teens. Today, nearly 900 Catholic Charitie employees and over 1,100 volunteers serve more than 81,000 people in the diocese annually.
With a constant eye on how the most vulnerable members of our society are faring, Catholic Charities is committed to developing diverse responses to local community needs. Today, Catholic Charities of the Diocese of Albany provides a wide array of services through its 12 agencies and dozens of programs to meet the needs of the people we serve.
Catholic Charities of the Diocese of Albany is affiliated with Catholic Charities USA, one of the nation's largest social service networks. Catholic Charities participates and collaborates in national networking, advocacy, and program development through CCUSA.
Centennial Medallions
As part of our centennial year, we are bestowing the Centennial Medallion upon 100 individuals and groups for distinctive service to the poor and vulnerable in our Diocese.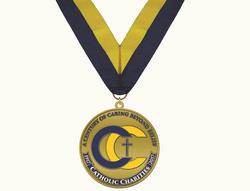 Catholic Charities was established by a Special Act of the NYS Legislature in 1917. Our work began with welcoming orphans and assisting families with adoption. Over the years, services expanded from the initial foundation in the Capital District to services in all 14 counties of the Diocese. Throughout these years, individuals and groups have contributed to the mission of Catholic Charities and helped to develop and strengthen our services.
The Centennial Medallion awardees were chosen for their generosity, commitment, and passion in serving those most in need. Medallions will be given out at community events around the Albany Diocese throughout 2017, and we applaud all of the honorees who have helped strengthen our mission over the past 100 years.
Congratulations to all of our Centennial Medallion recipients:
Grace Allidi, Christine Andrzejczyk, Lloyd Baker, Fr. John Bradley, Sister Serena Branson*
Michael Breslin, Neil Breslin, Ron Canestrari, James Cashen, Susan Cimino-Cary
Rhea Clark, Sister Maria Cokely, CSJ, Barbara Colavecchio, John Collins, Congregation Beth Emeth
John Connors, John Coppola, Bartley (BJ) Costello, Sister Kay Crispo, CSJ, Bob Curley, John Daly
Fr. Ed Deimeke, Ellen DeLucia, Henry Digeser, Bruce W. DiStefano, Barbara DiTommaso
Jean Dobbs, Father Michael Farano, Sen. Hugh Farley, Rich Farrell, Jeff and Todd Ferraro
Joyce Flanagan, Bob Flynn, Chris and MaryJo Gibson, Tom Gilliespie, Shari Golub Schillinger
Mark and Tony Gorman, Victor Giulianelli, Bob Harrison, Michael Hayes, Patricia Hernandez*
Bishop Howard Hubbard, Fr. Dominick Ingemie, Larry and Rose Marie Joyce, Sister Maureen Joyce, RSM*
Donna Kankiewicz, Kathy Kavanaugh, Jack and Marcia Keefe, Michelle LaBarge*, Ladies of Charity
Jo-Ann LaMonica, Mary Landrio, Terry Leonard, Lee Lindstrom, Sister Mary Ann LoGiudice, RSM
Brother Ken Lucas, OFM, Jack and Peter Maloy, Roger and Maria Markovics, Sister Rita Shawn McClaskey, CSJ
Bill and Betsi McGoldrick, Marge Mineau, John Murray, Michael Nardolillo*, John Nigro
Fr. Leo O'Brien, Mary Beth O'Brien, Gary O'Brien, Reverend Francis (Frank) O'Connor, Noel Olsen
Rev. Randall Patterson, Michael Pirrone, Bill Przylucki, Gertrude and Dr. James* Purcell
Harold and Jeanne Qualters, Mark Quandt, Ken Raymond, Sister Rachel Ricciardelli, CSJ*
Thomas Roohan, John Rutnik, Senator James Seward, Gary Siegel, Mary Jane Smith*
Paul Stec, John Steele, Stewart's, Sister Peg Sullivan, RSM, Charles J. Tobin Jr.*, Paul Tonko
Michael Toohey, Gloria Towle-Hilt, Sister Anne Tranelli, CSJ, Al Turo, Lauren VanDermark, CSJ
Sandy Walters, Judge Leonard Weiss, Linda Wheeler, John Willwerth*, David Wojeski
*awarded posthumously