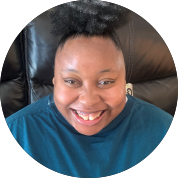 Shanell, 24, has a combination of intellectual disability with physical and mental health issues. Her mom had been her primary caregiver all her life.
With little resources, they were living on the city streets. Together, they panhandled for money to buy food.
When Shanell's mom became suddenly ill, she was placed in a nursing home and Shanell was left homeless, alone and suddenly without a caregiver.
Shanell came to Catholic Charities, where we arranged for her to live at one of our homes operated by Catholic Charities Disabilities Services.
With a space of her own, Shanell is now happy and thriving. When she first saw her bedroom, her eyes lit up excitedly and she asked, "This is mine?!"
Sadly, Shanell lost her mother within the last year. Shanell continues to reside at one of our residences in the Capital Region and has access to services where she can go to work, go shopping and be out with friends. Shanell can enjoy activities which many of us take for granted and at the same time, they are engaged in the rich fabric of community life.
Catholic Charities Disabilities Services operates 17 residences in the Capital Region, serving 82 adults through the careresidential program. is just one way we serve people with disabilities, and it is one of the most critical.
.