Senior & Caregiver Support Services
Senior & Caregiver Support Services
CATHOLIC CHARITIES SENIOR & CAREGIVER SUPPORT SERVICES
1462 Erie Boulevard, 2nd Floor
Schenectady, NY 12305
Phone: 518-372-5667 | Fax: 518-372-5686
Provides an array of programs and services to seniors in 14 counties of the Diocese including the following listings (Expansion plans include services added in other areas of the Albany Diocese).
Caregiver Support Services- Offers respite services, support services and groups throughout the 14 counties of the diocese.
Phone: 518-372-5667 | Fax: 518-372-5686
Health Insurance Information Counseling & Assistance Program - HIICAP provides free and objective information, assistance, and advocacy to medicare beneficiaries.
Phone: 518-372-5667 | Fax: 518-372-5686
Long Term Care Ombudsman Program - Protects the health, safety, welfare, human, and civil rights of people living in nursing homes and adult care facilities.
Phone: 518-372-5667 | Fax: 518-372-5686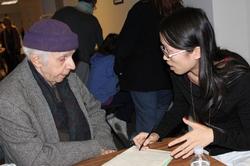 Senior Nutrition: Meals on Wheels Office- Delivery of nutritionally balanced meals 5 or 7 days per week with optional evening meals. Short-term fee-for-service meals also available.
Phone: 518-688-0051 | Fax: 518-372-5686
Senior Nutrition: Senior Dining Centers - Friendship Cafe - Nutritious midday meals served at four Schenectady County locations listed below. Health and wellness programs, social activities and outings are also offered.
Our Lady of Fatima Church


1735 Alexander Rd.,

Delanson, NY 12053
Phone: 518-275-7601
Jewish Community Center
2565 Balltown Rd., Schenectady, NY 12309
Phone: 518-377-8803
Scotia-Glenville Senior Center
32 Worden Ave., Glenville, NY 12302
Phone: 518-393-1946
Ten Eyck Apartments
375 Broadway, Schenectady, NY 12305
Phone: 518-374-5511
Transportation Program- Affordable transportation for seniors of Schenectady County to medical appointments, senior dining centers, and Dayhaven Social Adult Day Services Program.
1462 Erie Boulevard, 2nd Floor, Schenectady, NY 12305
Phone: 518-357-9801 | Fax: 518-372-5686
Geographic Agencies
Service Specific Agencies