Agencies and Programs
Tri-County Services
Tri-County Services
CATHOLIC CHARITIES TRI-COUNTY SERVICES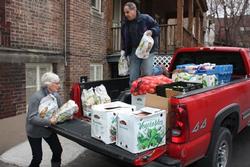 Mailing address: PO Box 28, Rensselaer, NY 12144
Office Address: 50 Herrick St., Rensselaer, NY 12144
Phone: 518-512-3577 | Fax: 518-621-7845
Email: information@ccalbany.org
This agency coordinates an array of essential basic needs and youth services in Albany, Rensselaer and Schenectady Counties.
---
Programs include: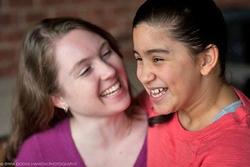 Basic Needs/Utility Assistance
Residents of Albany and Rensselaer Counties- contact this program at (518) 486-8020 and leave a detailed message with your contact information. A caseworker will call you back to discuss assistance options.
Phone: (518) 486-8020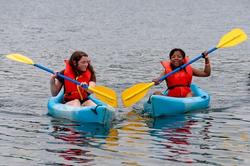 Camp Scully

Camp Scully is a residential summer camp for children 7-17 years of age and a day camp for children 5-10 years of age, located on Snyder's Lake in Rensselaer County. Camp provides recreation and socialization to children throughout the Capital Region during the summer months and during school spring and mid-winter breaks. It is accredited by the American Camp Association (ACA).
Program Director: Colin Stewart | Camp Registrar: Jackie Scholten
Mailing Address: PO Box 28, Rensselaer, NY 12144
Phone: 518-512-3577 | Fax: 518-621-7845
Website: campscully.squarespace.com
Community Collaboration – This program is staffed by one full-time Community Resource Navigator whose outreach area primarily services the City of Albany. This program provides information and referral services to community members out of the Sister Maureen Joyce Centers, St. John's / St. Ann's Outreach Center and various community based partner agencies as needed.
Community Resource Navigator: Donald Foreman - 518-935-0295
CoNSERNS-U

Services include a food pantry, information and referral service, advocacy, clothing, back-to-school, emergency assistance, and holiday gift and food distributions. Casework services are also provided to individuals and families throughout rural Rensselaer County.
Program Coordinator: Colleen Pidgeon
Address: 50 Herrick St Rensselaer, NY 12144
Phone: 518-463-8571 | Fax: 518-463-8747
FOCAS Program (Family Opportunity Collaborative at Sunnyside) - The FOCAS program provides for an expansion of services at Sunnyside Center to include individualized casework services. The FOCAS Program is designed to provide skills, tools and support to enrolled families to assist with overcoming the non-academic barriers to children's success and to reduce the opportunity for youth to engage in risky behaviors.
Case Manager: Sharmayne VanDyke
Address: 103-111 East Sunnyside Way, Troy NY 12180
Phone: 518-898-0439

Hilltowns Community Resource Center
Services provided include a food pantry, information and referral, advocacy, casework services and special projects, such as back-to-school and holiday assistance.
Program Coordinator: Marybeth Petersen
Address: P.O. Box 147, Westerlo, NY 12193
Phone: 518-797-5256 | Fax: 518-797-5260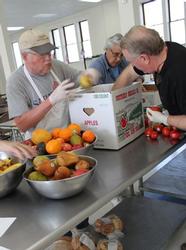 Sister Maureen Joyce Center
Services provided include a soup kitchen, food pantry, information and referral and special projects, such as back-to-school and holiday assistance.
Program Coordinator: Gayle Pausley
SMJ Food Pantry – open Tuesdays, Wednesdays and Fridays
Address: 315 Sheridan Ave., Albany, NY 12206
Phone: 518-465-8262 | Fax: 518-486-8326
SMJ Soup Kitchen - open Mondays & Thursdays; and Sundays operated by Temple Beth Emeth.
Address: 369 Livingston Ave., Albany, NY 12206
Phone: 518-462-9885
St. John's / St. Ann's Outreach Center - St John's St Ann's Outreach Center serves the community of South Albany. The Outreach Center provides food services through a "Welcome Table" soup kitchen as well as a food pantry. The Outreach Center assists with providing clothing and furniture to individuals as needed. Additional seasonal programs are offered to include holiday and back to school programs.
Program Coordinator: Barbara Quinn
Food Pantry: Monday, Wednesdays, Thursdays and Fridays 10-12 and 1-3
Welcome Table (Soup Kitchen): Tuesdays and Saturdays 11:30-1:00
Address: 88 Fourth Avenue, Albany, NY 12202
Phone: 518-472-9091 Fax: 518-427-5983
Roarke Center - Services provided include: emergency assistance; food pantry, The Roarke Connection Reentry program for women and men with legal issues or leaving incarceration; creative arts, creative writing, digital photography, sewing and weaving. The program provides services to those in need in Troy.
Program Coordinator: Sister Marian Hamwey
Program Coordinator: Sister Loretta Hoag, Creative Hearts
Address: 107 Fourth St., Troy, NY 12180
Phone: 518-273-8351 | Fax: 518-270-0579
Sunnyside Child Development Center - Services at Sunnyside Center are located in North Central Troy and include a day care program serving children 6 weeks to 5 years old; an after-school program for children grades K-6, which runs school-days from 2:30-5:30pm; and a summer day camp program for children 5-12.
Program Director: Kim Piser
Address: 9th St. at Ingalls Ave.
Address: PO Box 1410, Troy, NY 12181
Phone: 518-274-5986 | Fax: 518-273-3926

VITA (Volunteer Income Tax Assistance) Program
Offers free tax preparation services in Albany from IRS-certified volunteer preparers. The program is available to eligible lower-income individuals from February until April. Dial 211 for appointment – For information call 518-512-3577
Phone: 518-512-3577
Mailing address: PO Box 28, Rensselaer, NY 12144
Geographic Agencies
Service Specific Agencies