Employment
Employment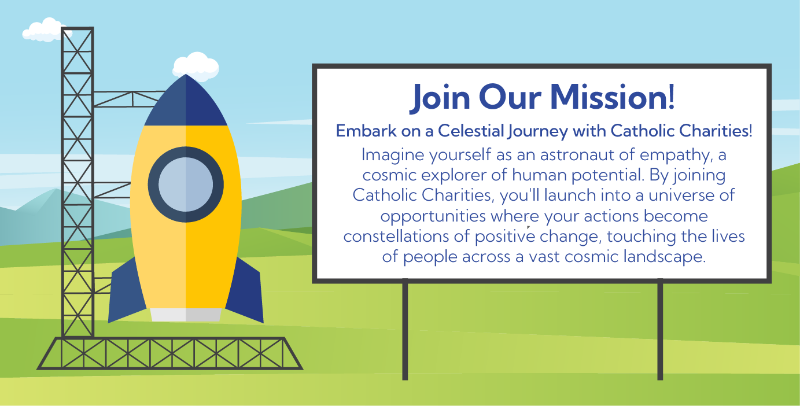 Embark on a Celestial Journey with Catholic Charities!
Imagine yourself as an astronaut of empathy, a cosmic explorer of human potential. By joining Catholic Charities, you'll launch into a universe of opportunities where your actions become constellations of positive change, touching the lives of people across a vast cosmic landscape.
Our Cosmic Canvas
Our cosmic canvas spans 14 counties and twinkles with 50 sites, each a unique star in our constellation. You'll have the chance to work with a diverse array of cosmic beings, from children and families orbiting their own challenges to individuals with developmental galaxies to explore. Extend your reach to provide warmth to seniors like aging stars, support veterans on their stellar path, and offer refuge like cosmic oases to interstellar wanderers.
Join Our Cosmic Crew
But our universe isn't limited to just those who engage directly with our cosmic clientele. Our celestial ecosystem thrives with those who maintain the cosmic order, from financial supernovae to human resource quasars. Each role contributes to the cosmic harmony of our mission.
Explore Job Openings
Our cosmic crew comprises full-time, part-time, and relief staff—individuals whose unique cosmic energies enrich our constellation. Regardless of your cosmic origin—be it age, race, religion, or ability—what unites us is the shared passion for service and the cosmic purpose we serve.
In the cosmos of opportunities, Catholic Charities of the Diocese of Albany isn't just an organization; it's a launchpad to galactic experiences—an Equal Opportunity Cosmos where every cosmic being finds their place to shine.

Click here to view additional job opportunities with the Diocese of Albany.