Tri-County Services
Tri-County Services
Subscribe to e-News Find us on Facebook

CATHOLIC CHARITIES TRI-COUNTY SERVICES
Executive Director: Jenn Hyde


Mailing address: PO Box 28, Rensselaer, NY 12144
Office Address: 50 Herrick St., Rensselaer, NY 12144
Phone: 518-512-3577 | Fax: 518-621-7845
Email: information@ccalbany.org
Catholic Charities Tri-County Services provides an array of essential services in the Capital District. Programs are designed to address the basic needs and necessary youth programs for this geographic area. The programs of Catholic Charities Tri-County Services include:
---
Programs include: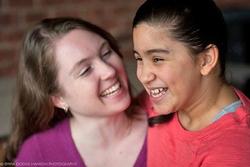 Basic Needs/Utility Assistance
Residents of Albany and Rensselaer County - Contact the Roarke Center at 518-273-8351. The Roarke Center serves as the hub to the Community Navigation program which serves Albany and Rensselaer County residents.
Resident of Schenectady County - Catholic Charities is part of the Community Crisis Network, a collaboration to address emergency assistance needs (including utility assistance) in Schenectady. Contact the Schenectady Community Action Program (SCAP) at 518 374-9181 for more information.
Camp Scully
Camp Scully is a co-ed, day and overnight summer camp for children and teens in grades Pre-K through 11th grade. Located on Snyder's Lakes in North Greenbush approximately 10 miles from Albany and Troy in New York.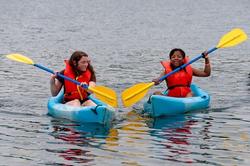 Mailing Address: 24 Camp Scully Way, Wynantskill, NY 12198
Phone: 518-283-1617
Fax: 518-303-1484
CoNSERNS-U
Services include a food pantry, information and referral service, back-to-school supplies, emergency assistance, and holiday gift and food distributions. Services are provided to individuals and families throughout rural Rensselaer County and City of Rensselaer.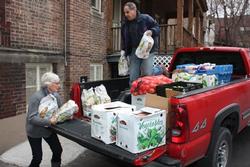 Address: PO Box 28, 50 Herrick St Rensselaer, NY 12144
Phone: 518-463-8571
Ellis Food Farmacy
Serves Medicaid-eligible patients, referred by a healthcare provider, who have low food access and a nutritional risk factor. The program provides short-term healthy food and individualized nutrition education support so that participants may experience the confidence and ability to address their chronic health conditions using 'food as medicine'.
Address: Ellis McClellan Health Center, 600 McClellan Street, Schenectady, NY 12304
Phone: 518-630-5736
Fax: 518-630-5737
Albany Food Farmacy
Medicaid-eligible patients who have low food access and a nutrition risk factor can be referred to by their medical provider to the Food Farmacy for short term food support and individualized nutrition education from a Registered Dietitian along with community resource referrals to support patients with chronic health conditions.
Address: 553 Clinton Ave, Albany, NY 12206
Phone: 518-818-0019
Fax: 518-898-9356


Hilltowns Community Resource Center
Services provided include a food pantry, information and referral, advocacy, casework services and special projects such as back-to-school.
Address: 560 State Route 143, Westerlo NY 12193
Mailing Address: P.O. Box 147, Westerlo, NY 12193
Phone: 518-966-7380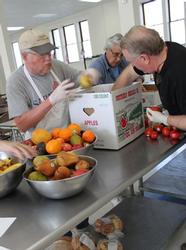 Sister Maureen Joyce Center's Food Pantry and Soup Kitchen
Services provided include a soup kitchen, food pantry, information and referrals.

Soup Kitchen: 369 Livingston Ave, Albany, NY 12206 (Mon & Thurs)
Food Pantry: 315 Sheridan Ave, Albany, NY 12206 – 518-347-9546 (Tues, Weds & Fri)
St. John's / St. Ann's Outreach Center
St John's St Ann's Outreach Center serves the South End community of Albany by providing food services through a "Welcome Table" soup kitchen on Tues and Sat as well as a food pantry Mon, Wed, Thurs and Fri. Additional programs are offered to include holiday assistance, fresh produce and GED programs.
Address: 88 Fourth Avenue, Albany, NY 12202
Phone: 518-472-9091 Fax: 518-427-5983
Roarke Center
Services provided include: emergency assistance; food pantry, The Roarke Connection Reentry program for women and men with legal issues or leaving incarceration; creative arts, creative writing, digital photography, sewing and weaving. The program provides services to those in need in Troy.

Address: 107 Fourth St., Troy, NY 12180
Phone: 518-273-8351 | Fax: 518-270-0579
Sunnyside Child Development Center
Services at Sunnyside Center are located in North Central Troy and include a day care program serving children 6 weeks to 5 years old; an after-school program for children grades K-6, which runs school-days from 2:30-5:30pm; and a summer day camp program for children 5-12.

Address: 9th St. at Ingalls Ave.
Address: PO Box 1410, Troy, NY 12181
Phone: 518-274-5986
Volunteer Income Tax Assistance (VITA) Program
This program offers eligible individuals and families who meet the income eligibility guidelines free tax preparation service from IRS certified volunteer tax preparers.
Dial 211 for appointment
For information call 518-512-3577
NOEP (Nutrition Outreach and Education Program) Schenectady
This program offers free, confidential, one-to-one services that help food insecure residents within Schenectady County get nutrition assistance with SNAP. Our NOEP Coordinator helps program applicants complete and submit their SNAP (food stamp) application, works with local government offices to ensure that each application is processed correctly and refers those in need to other community resources as appropriate.
Address: 1462 Erie Boulevard, Schenectady, NY 12305
Phone: 518-374-2427


Geographic Agencies
Service Specific Agencies