Our Employees of the Year!

Care Coordination Services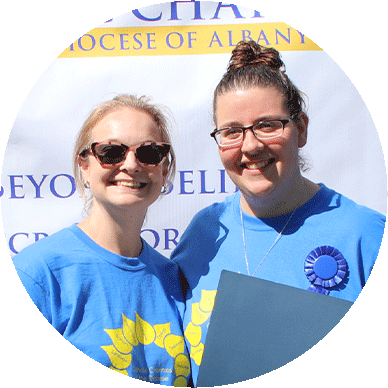 Honors Elizabeth Anelli!
Liz consistently meets and exceeds the expectations of the agency. Over the last year, Liz has managed her own case load with excellence. She excels at advocating for her clients and utilizes her outstanding interpersonal skills to build relationships with community providers to ensure that no client ever gets overlooked or under-treated. Liz's clients trust her and value her, and often Liz may be the only person they trust. She is extremely dependable, empathic, compassionate, and always shows up at 100%. Liz is early for work every single day and always exceeds the goals set for her without wavering. And then she pushes herself even further, learning more, growing more, and giving even more. Her team trusts her, relies on her. Her clients need her and appreciate her. Liz stands out in her role, in her field. The agency is beyond blessed to have had Liz's dedication to our agency and our clients as long as we have.
Columbia & Greene Counties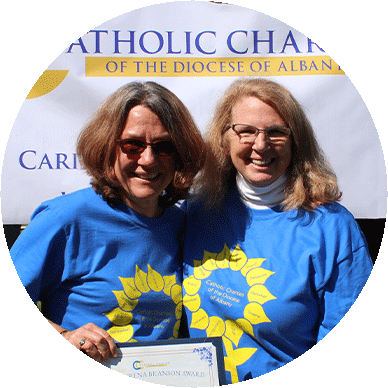 Honors Katy (Kathleen) True!
Katy has been so valuable to our agency over her combined 14 years of service. The time she has spent working for the WIC Program and her experience with community outreach cannot be replicated or replaced. The COVID19 pandemic brought huge changes to the way our WIC program operates, and Katy has always been flexible and adaptable with these changes. She has been the go-to person for training new hires. Most recently, she covered for the Coordinator's maternity leave and accepted new responsibilities in the role of Assistant WIC Coordinator. She has been a wonderful leader and advocate for her team. We are so lucky to have someone so willing to roll with the changes and cover anywhere she is needed. She has earned a great deal of respect and appreciation amongst our team.
Community Maternity Services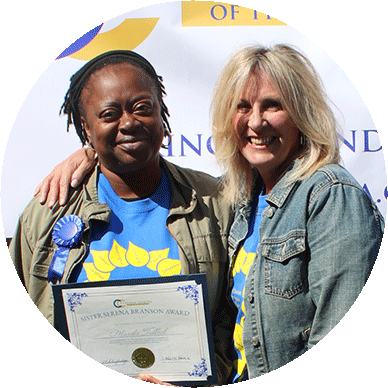 Honors Marsha Tulloch!
Marsha is the Health Care Coordinator in the CMS residential programs. This time around, Marsha has been with CMS for almost 12 years, however, she was previously employed as a LPN for several years prior to returning. In her current role, Marsha and her staff coordinate all medical care for our youth and infants. Marsha also provides parenting education to our youth at our Heery Center, who are pregnant or parenting. Marsha is a natural caregiver and exceptional nurse. Her approach to our youth is one that enables them to trust her not only with their medical issues, but also consider her a confidant in many other aspects. She is a staunch advocate for our youth and will go above and beyond to be able to meet their needs. Marsha exemplifies the mission of CMS in everything she does, from providing nursing and parenting education services, to working direct care shifts to assist during staffing shortages, to coordinating the residential Holiday program to make sure all of our children have gifts, she consistently extends herself for the betterment of the agency and our youth.
Delaware, Otsego & Schoharie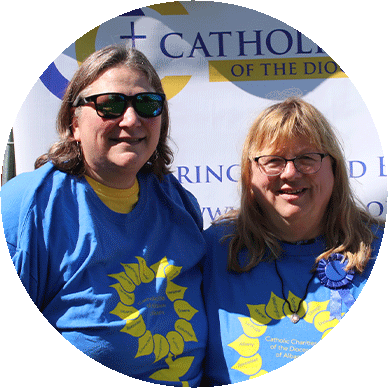 Honors Penny Mcknight!
Penny is the Caring Connections Community Navigator in the Sidney Office. On January 3, 2017 Penny was hired to work 3 days a week. In September of 2019, she began working 5 days a week. She is always bright and cheery when working with clients or fellow employees. She is very enthusiastic about her job and getting people the services they need. She is quick to respond to those in need, and also if an employee has a question. Penny has been part of all the food distributions in Delaware County. People acknowledge her as a model representative of Catholic Charities. Penny had endured construction in her office, the furnace not working, pipes breaking and let's not forget sharing the bathroom with others who do not work for Catholic Charities. Rumor has it that Penny is the most organized person in our office. I hear there are binders lined up in order, of course everything is alphabetized. Penny is a delight to work with and it would not take long for you to find her very engaging and personable. Penny has faced personal trials this year but even on her worst days there is always a spark of hope in her voice.Penny will phone the Oneonta office several times a day to make sure that office is up to date on what is being done in Delaware County. She is a member of the Sunshine committee, making sure that employees receive Birthday Cards from the Sidney office.
Disabilities Services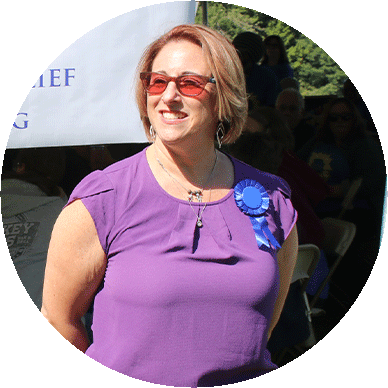 Honors Michele Guy!
It is difficult to narrow down just what makes Michele so special, but I suppose that is what makes her stand out. Michele is a tireless advocate for those in her care. She brings a considerable amount of knowledge, a thoughtful approach to leadership and a genuine appreciation of others to her role as the Clinical Operations Manager. The energy and enthusiasm with which she approaches her role here at CCDS is remarkable and we are fortunate to have her on our team.



Fulton & Montgomery Counties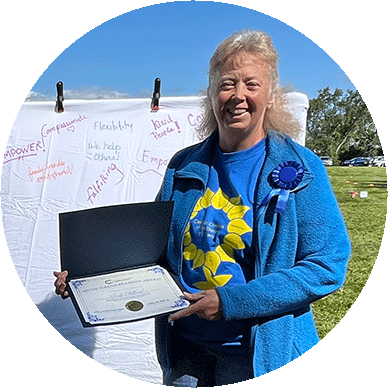 Honors Cindy Pollard!
Cindy has worked at CCFMC for 18 years as Secretary to the Executive Director, now known as Executive Assistant. Cindy is always available to help in any way she can. She takes pride in her work and is dependable, committed and always one step ahead of me. Cindy knows all the ins and outs of the agency and she is truly an asset to the staff and those that we serve. All the little nuances of the job is Cindy's forte and we are extremely lucky to have her at CCFMC. Congratulations Cindy!



Herkimer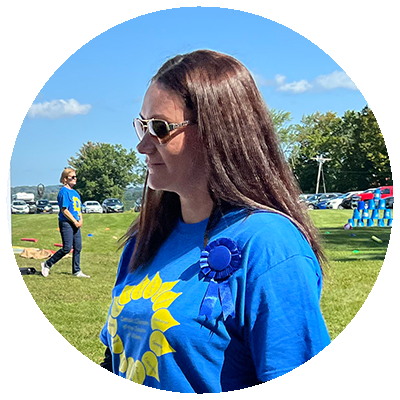 Honors Brandi Staring!
Brandi began her employment as a Program Assistant in Prevention, within a few years she became the Project Coordinator for the MVPRC devoting her time to assisting individuals in substance abuse prevention and recovery. Most recently she accepted a new role as our key fiscal person and has taken on all the additional responsibilities that the position requires. We are grateful to Brandi for stepping up to the role and working with our program directors and executive director to streamline our processes. She has done an amazing job! She also continues to provide supervision to our the current Project Coordinator for MVPRC. Thank you Brandi!



Housing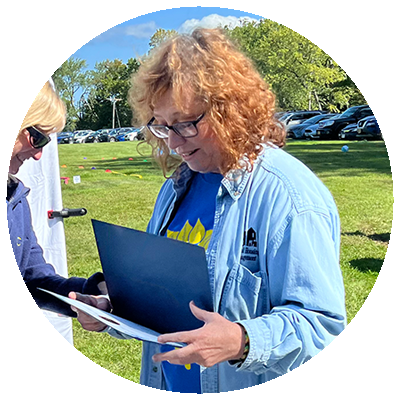 Honors Candy Smith!
Candy Smith joined Catholic Charities Housing Office's Fiscal Team in 2003. Over the years, Candy's responsibilities have grown and in 2021 she became the Fiscal Director. For the last twenty years, Candy has witnessed a lot of change, weathered many storms, and has been the one constant in the Housing Office. Through it all Candy has demonstrated a tireless work ethic, commitment to our mission, and support for our team. Candy works countless hours ensuring that reporting and vouchering are done timely and accurate, she has the challenging task of deciding which invoices get paid when money is tight, and she is always willing to lend a hand wherever need. Her dedication to our mission is evident every day in her work and her willingness to help others, and that is why Candy Smith is Housing's Employee of the Year.
Saratoga, Warren & Washington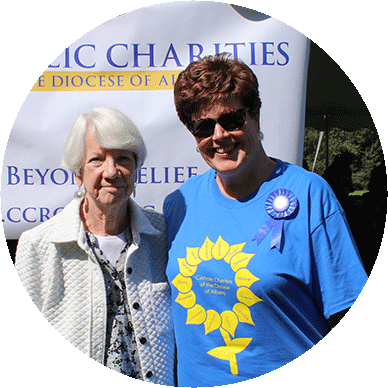 Honors Kelly Waechter!
Kelly Waechter, assistant to the agency's Fiscal Director, has been with Catholic Charities for three years. Having left her position in the Corporate World, she wanted to spend her remaining years of employment in a mission-driven setting. Kelly served on the Board of Directors for ten plus years and was committed to serving the poor and vulnerable in the Tri-County Communities.Kelly carries out her job responsibilities with diligence and expediency. She relates well to her peers and is patient with the challenges of gathering required documentation, mileage reports, and other necessary information from staff scattered across three Counties. She is always courteous and pleasant in her dealings with others whether they are staff, clients, or vendors. Kelly often fills in for various staff during lunch hours, illness, time off, vacation, etc. Her welcoming personality is engaging and respectful of every person seeking information or assistance. Anxious walk-ins and new clients are put at ease by her upbeat but calming demeanor. She is knowledgeable, professional and always compassionate. Often multi-tasking in a busy office, Kelly always manifests a quiet grace under pressure. The Board and staff of CCSWW gratefully acknowledge her dedication and services on behalf of the Mission of Catholic Charities.
Tri-County Services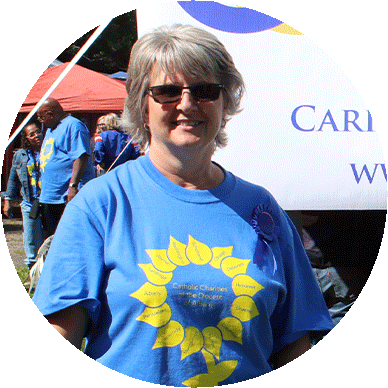 Honors Michelle Abel!
When thinking about who continues to strive to be the best employee they can be and earn the prestige of employee of the year, Michelle Able is without hesitation this employee. Michelle's "think out of the box" and "do whatever it takes to help" mindset highlights her resourcefulness and empathy in addressing the needs of those she serves and is contagious to those she oversees. Her ability to balance day-to-day operations while keeping the bigger picture in mind demonstrates her strong leadership skills. Michelle's willingness to do whatever it takes to support the operations, whether it is staying late to ensure a family in need has food or strategizing to meet community needs effectively, showcases her versatility and dedication to the mission of Catholic Charities. It is clear that Michelle has a passion for her work and a true commitment to the mission and values of Catholic Charities. Her contributions have undoubtedly made a positive difference in lives and for families. Catholic Charities is fortunate to have a passionate and committed employee like Michelle. Michelle has dedicated 28 years and gone above and beyond to help others. Her truly commendable qualities should be recognized and celebrated across the organization. Catholic Charities Tri-County Services proudly nominates Michelle Abel, Associate Executive Director, for Employee of the Year. From working with at-risk youth to fostering financial independence and leading multiple programs and projects, Michelle has made a significant impact on building stronger communities. Nominating her for Employee of the Year is a well-deserved recognition of her outstanding contributions and positive impact on our communities.
Senior & Caregiver Support Services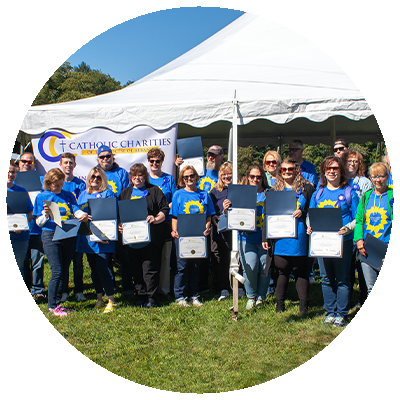 Honors: Lori Bacheldor, Ryan Bird, Duane Burg, Kathleen Cahalan, Henry Clements, Kevin Cornils, Cynthia Countryman, Peter Countryman, Paulette Cross, Autumn Eckler, Susan Guynup, Diane Hurd, Allison Johannessen, Ronald Kellar, Mary Keniry, Robert Keplinger, Tina Kinowski, Kenneth LaFevers, Adam Leach, William Moran, Alana Morgan, Charles Moseley, Gloria Murray, Jennifer Parsons, Anthony Pasquerella, Michael Pferr, Kathleen Richards, Anita Rossler, Susan Salisbury, Robin Schwartz, Laurie Sendra, Dean Serdencuk, Danielle Sommers, Deb Trudell, Susan Vandenbug, Leonard VanSlyke, Robert Wagner, and Yanee Zane!
This year Catholic Charities Senior and Caregiver Support Services is honoring all of our employees for their perseverance, dedication to those we serve and the mission and for their determination to get the job done. This year will be the last year with this agency standing on its own, as it embarks on a new adventure of becoming part of CC Tri-County Services. This is the final change in what has seemed like a year full of changes. Yet, these staff have stuck with Catholic Charities and its mission to serve the poor and vulnerable, including sometimes the most vulnerable population, our seniors. In the first half of calendar year 2023, amid a year of turmoil, uncertainty and change they accomplished much. These are just some of the highlights: Provided 185 older with essential transportation. Provided 45,939 home delivered meals to 308 older adults. Provided 94 older adults with a meal through our four congregate meal sites. Provided support and advocacy for those older adults and their families staying in long-term facilities. Provided case management to 57 older adults in the rural areas of our Diocese. Provided assistance in obtaining insurance to 208 older adults Thank you for all you have done for the older adults in our communities and for your commitment to this work over the last year.
Executive Office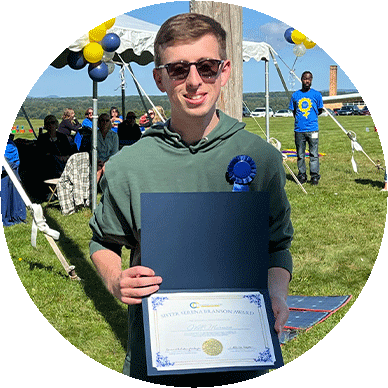 Honors Will Murnan!
Will Murnan marked his two year anniversary with Catholic Charities. As the agency's Development Coordinator Will has played a key role in our development efforts for those two years. He is dedicated to doing the best in his job to ensure that the work he does is making an impact for those we serve. Over the last year there have been changes both with staff and the structure of the now Development and Communications office. During that transition Will not only stepped into the "development" role but he also went above and beyond, keeping in touch with donors, managing the data base and ensuring that Night at the Museum, was a success. This was a herculean effort. Will's passion for logistics, attention to detail and event planning shone through. This leadership continues as Will has trained two new employees in the department on the database and other Development office processes. His insight and agency knowledge are a tremendous asset. Will brings his dedication, support and these resources to all Catholic Chanties programs and agencies. This accomplishment is a testament to Will's hard work and the high standards he consistently upholds. Congratulations, Will on being named EOSS Employee of the Year. Thank you for being an invaluable member of our team.