Food & Nutrition
Otsego County
PH (607) 432-0061 | FX (607) 431-9303
176 Main St., Oneonta, NY 13820
Otsego County

Food & Nutrition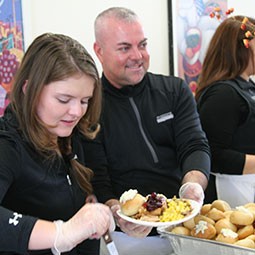 SUMMER FOOD SERVICE PROGRAM FOR YOUTH




176 Main St., Oneonta, NY 13820




The Summer Food Service Program in Neawha Park, Oneonta is open to all children through age 18. Lunches are served Monday - Friday from 11:30 am - 12:30 pm in July and August. There are no income requirements and no information will be collected from those being served.

CHILD AND ADULT CARE FOOD PROGRAM





The Child and Adult Care Food Progam (CACFP) reimburses for meals and snacks served to children up to age 13 enrolled in child care homes. The major focus of CACFP is to serve nutritious meals and snacks in child care homes which care mainly for children from low income households. However, all day care home providers meeting eligibility guidelines may take part in CACFP whether or not they care for children from low income households.

Catholic Charities is the CACFP sponsoring organization for child care homes in Otsego County. As the sponsor, we provide recruitment, technical assistance and nutrition training. We review monthly attendance and menus, monitor child care programs and distribute monthly reimbursement checks.